Our Doctors
Suzanne Scott

DVM
Dr. Scott graduated from the LSU School of Veterinary Medicine as the 1000th graduate. She practiced in New Orleans until Hurricane Katrina forced her evacuation to Texas. Dr. Scott is married to her college sweetheart and lives in Magnolia with her 2 kids, 5 dogs (3 of them wolfhounds) and her Rose Crested Cockatoo. When she is not working, she enjoys flying a small plane and scuba diving. Dr. Scott opened Paws to Claws Veterinary Care in 2010 to fulfil her dream of providing exceptional medical, surgical, and preventative care for all pets in her community, whether they are furry, scaly, or feathered. Dr Scott holds memberships in many veterinary organizations and is dedicated to practicing the most current and updated medical and preventative care protocols to ensure the safety and well being of our patients – your family. She is assisted by a highly trained and experienced team who understand the bond between pets and their families. Together their compassion, expertise and knowledge allow us to give you and your pets the personal attention and individualized care they deserve.
Licensed Veterinary Technicians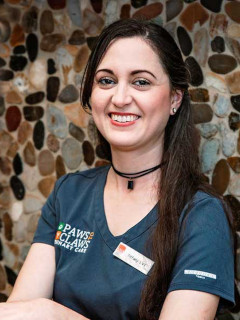 Tiffany

Licensed Veterinary Technician
Tiffany, a Licensed Veterinary technician, graduated Lone Star College in 2007 with an Associate of Applied Science degree in Veterinary Technology. She started at working at McGovern Animal Clinic in 2005 and stayed with the practice when it transitioned to Paws to Claws Veterinary Care in 2010. Tiffany enjoys all aspects of veterinary medicine, but has a passion for anesthesia, surgery and exotic medicine. She lives in Montgomery with her husband Josh and her 4 dogs, 5 cats (one of which is 3 legged), a 3-legged chinchilla, and a sulcata tortoise. During her free time, she loves cooking, baking, crafts, gardening, and helping her husband work on cars.
Veterinary Technicians
Rachael

Veterinary Technician
Rachael is a graduate from the Lone Star College Veterinary Technician Program and joined our team in August of 2020. She really enjoys all aspects of veterinary medicine, especially client education and anesthesia. Rachael loves spending time with her Fiancé, 4 cats and Monty her ball python. She also enjoys reading and traveling.
Certified Veterinary Assistants
Allison

CVA
Jennifer

CVA
Jennifer has been working in veterinary medicine for almost 3 years and joined our Paws to Claws family in October 2021. Jennifer loves working with all pets but has a soft spot for cats.
Jennifer was born and raised in New Mexico, but came to Texas as soon as she could. Jennifer loves spending time reading and going to the lake with her husband and 3 kids.
Kyle

CVA
Kyle joined the Paws to Claws Family in April 2021. Since joining the team, Kyle started as a Patient Care Attendant, but has since moved into the role of technician assistant and passed the CVA(certified veterinary assistant) level I certification.
Kyle lives in Magnolia with his crazy German Shepherd, Heathen and his snake, Kenny. In his spare time Kyle enjoys spending time with his friends.
Veterinary Assistants
Kelly

Veterinary Assistant
Kelly joined the Paws to Claws family in October of 2021, bringing with her, her over 10 years of veterinary experience. Kelly was born and raised in Texas. She lives in The Woodlands with her husband, Daniel, 2 snakes, 2 dogs and a cat. Kelly loves all parts of veterinary medicine, especially working with the exotics patients, and has a particular interest in microscope and laboratory work. In her free time she enjoys motorcycle riding.
Customer Service Representatives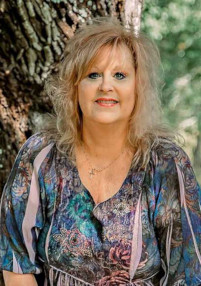 Terri

Senior Customer Service Representative
Terri joined the Paws to Claws family 2014. Originally from Pasadena she now resides in Magnolia with her husband, and 2 cats, Jellybean and Smokey. When not working, she enjoys spending time with her family, especially her grandson, cooking them a big breakfast on weekends, reading a great book, and watching Netflix. One day Terri and her husband hope to travel around the state in their refurbished 1976 GMC motor home.