Our Doctors
Suzanne Scott

DVM
Dr. Scott graduated from the LSU School of Veterinary Medicine as the 1000th graduate. She practiced in New Orleans until Hurricane Katrina forced her evacuation to Texas. Dr. Scott is married to her college sweetheart and lives in Magnolia with her 2 kids, 5 dogs (3 of them wolfhounds) and her Rose Crested Cockatoo. When she is not working, she enjoys flying a small plane and scuba diving. Dr. Scott opened Paws to Claws Veterinary Care in 2010 to fulfil her dream of providing exceptional medical, surgical, and preventative care for all pets in her community, whether they are furry, scaly, or feathered. Dr Scott holds memberships in many veterinary organizations and is dedicated to practicing the most current and updated medical and preventative care protocols to ensure the safety and well being of our patients – your family. She is assisted by a highly trained and experienced team who understand the bond between pets and their families. Together their compassion, expertise and knowledge allow us to give you and your pets the personal attention and individualized care they deserve.
Kristen Slater

DVM
Dr. Slater grew up in Northern Michigan and graduated from Michigan State University with her D.V.M. in 2002. She has lived in Magnolia since 2009 with her 5 dogs, 4 cats and 3 rabbits. Dr. Slater Joined the Paws to Claws Team in 2018 and enjoys practicing small animal medicine and soft tissue surgery; she is excited to work with a wide variety of mammalian species. In her spare time, she trains and shows her horse, Pistol Annie in Western and English disciplines, she also has a passion for gardening.
Our Medical Team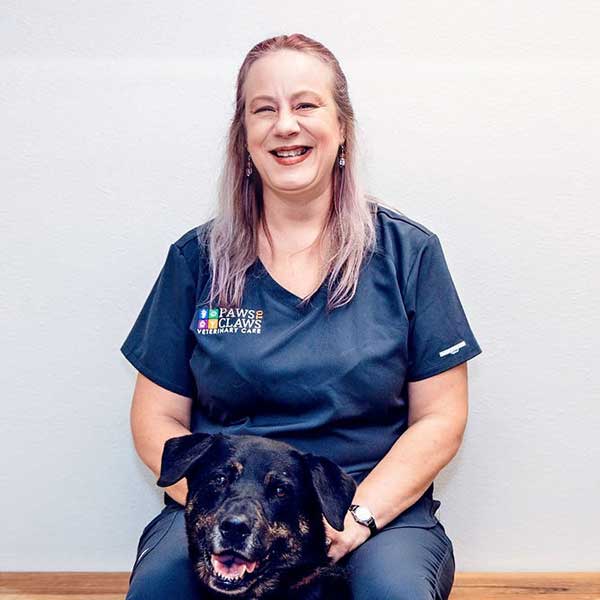 Debora

Licensed Veterinary Technician
Debora graduated from the Vet Tech Institute of Houston in 2014 and joined the Paws to Claws Family in 2018. She grew up on a ranch in New Mexico where her love of animals was born. One of Debora's favorite memories is waking up early in the morning to help bottle feed 100 calves before going to school. She is married to a wonderful and understanding man who shares her love of animals and their spoiled fur babies.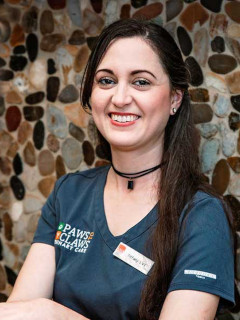 Tiffany

Licensed Veterinary Technician
Tiffany, a Licensed Veterinary technician, graduated Lone Star College in 2007 with an Associate of Applied Science degree in Veterinary Technology. She started at working at McGovern Animal Clinic in 2005 and stayed with the practice when it transitioned to Paws to Claws Veterinary Care in 2010. Tiffany enjoys all aspects of veterinary medicine, but has a passion for anesthesia, surgery and exotic medicine. She lives in Montgomery with her husband Josh and her 4 dogs, 5 cats (one of which is 3 legged), a 3-legged chinchilla, and a sulcata tortoise. During her free time, she loves cooking, baking, crafts, gardening, and helping her husband work on cars.
Veterinary Technicians
Drew

Veterinary Technician
Drew graduated from the Lone Star Veterinary Technician Program in 2018. After graduation, Drew joined the Paws to Claws family. When asked why he chose veterinary medicine his response was "they said work with a bunch of women it'll be fun!" Seriously though, Drew has a big heart and loves being able to make a difference in our patients and their parents' lives.
Rachael

Veterinary Technician
Rachael is a recent graduate from the Lone Star College Veterinary Technician Program and joined our team earlier this year. Rachael lives in Magnolia with her 3 dogs, 2 labs and 1 pit mix, 2 cats and a curly tarantula.
Certified Veterinary Technicians
Katherine

Certified Veterinary Assistant
Katherine joined Paws to Claws family in 2017 as a patient care attendant. Since then she has worked her way up and received her certification as a certified veterinary assistant (CVA) and is currently working on level III. Katherine lives in Magnolia with her family, her puppy Bonnie and her Kitty, Dobbin Jr. In her free time Katherine enjoys spending time with friends.
Patient Care Attendants
Aryana

Patient Care Attendant
Aryana is a student at Magnolia High School. She became a part of the Paws to Claws family last year as one of our Patient Care Attendants. She enjoys spending time with her family and friends, cuddling with her Bunny, Stormie and her two kitties, Kitty & Annabel. After graduation in 2022, Aryana plans on staying in the animal field, either as a veterinarian or as a veterinary technician.
Our Administrative Team
Marie

Practice Manager
After emigrating from England in 1991 our Practice Manager, Marie, worked several part-time jobs until she was offered a position as a greeter with a veterinary clinic in Houston. In 1998, she moved to Magnolia and started working for McGovern Animal Clinic; Marie stayed with the practice when it transitioned to Paws to Claws Veterinary Care in October of 2010. You may not see her every day, but she is here keeping the wheels turning in the background. Marie is also a member of the Veterinary Hospital Manager's Association, Houston Veterinary Practice Managers Association and obtained her CVPM (Certified Veterinary Practice Manager) certification in 2017. She and her husband, Gavin, have 5 children, 15 grandchildren, 2 great grandchildren, a dog, Ziva and a cat Felix. When they have spare time they enjoy traveling, watching baseball, the Tour De France, and hanging with family.
Customer Service Representatives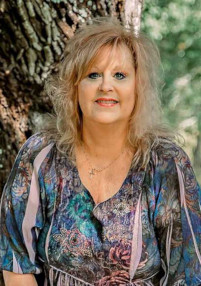 Terri

Senior Customer Service Representative
Terri joined the Paws to Claws family 2014. Originally from Pasadena she now resides in Magnolia with her husband, and 2 cats, Jellybean and Smokey. When not working, she enjoys spending time with her family, especially her grandson, cooking them a big breakfast on weekends, reading a great book, and watching Netflix. One day Terri and her husband hope to travel around the state in their refurbished 1976 GMC motor home.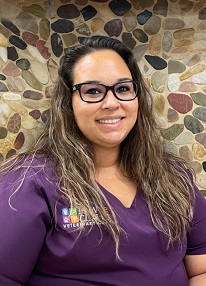 Racael

Customer Service Representative
Racael is our newest team member at Paws to Claws. Racael comes to us with many years of customer service experience and enjoys helping people and their furry, scaly or feathered babies. She loves to live life to the fullest with her husband, 3 kids, 2 dogs and 2 hamsters. Between dance and football, they love taking family trips and making memories.
Maricela

Customer Service Representative